Popular Disc Jockey, Florence Otedola also known as DJ Cuppy, has stated that she is not ready to become a mother.
Cuppy said this when she shared a photo of herself carrying a child in her arms.
She stressed that although she loves kids so much, she's not yet ready to have kids of her own.
"I love kids, but defooooo not ready for my own yet," she captioned the photo.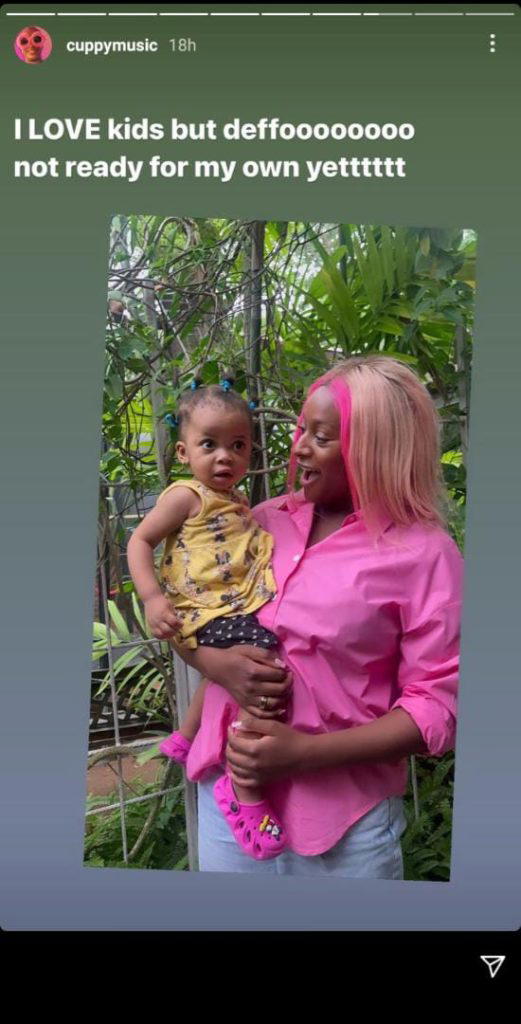 Recall DJ Cuppy, engaged to her fiance Ryan Taylor, recently dismissed rumours that she was pregnant.
The Billionaire heiress had taken to her verified Instagram page to share a video of herself dancing when netizens pointed out her protruding belly, suggesting that she looked pregnant.
Reacting to the pregnancy speculations in the comment section of the post, DJ Cuppy stated that she only has a belly and not pregnant.
"No, I just have a BELLlLYY," DJ Cuppy replied a curious Instagram follower.
We do everything possible to supply quality news and information to all our valuable readers day in, day out and we are committed to keep doing this. Your kind donation will help our continuous research efforts.
- Advertisement -