In an unfortunate incident, a newborn baby was discovered abandoned in Cameroon's Nkwen area, specifically beside MIDENO, on May 4th, 2023.
According to reports, the baby was left with a heart-wrenching note by an unknown woman who is yet to be identified.
"The baby was discovered around 6:00am. After notifying the quarter head and other authorities, the child was taken to the Health Centre where he was confirmed to be doing well in health," a source told newsmen.
The child, whose welfare is a top priority, has been taken to the police station for further procedures. It remains unclear what the next steps will be, but efforts are being made to ensure that the child is safe and well-cared for.
According to the handwritten note left with the baby, his name is Michael, and he was born on April 26th, 2023. The note also contained information about his health status, revealing the mother's concerns for her child's well-being.
The mother's note, written with evident despair and hopelessness, explained her difficult decision to leave the child. She stated that she had no other option but to abandon him in the hope that someone kind would find and care for him. The note also revealed that the mother lacked the financial and other resources needed to care for the child and felt that leaving him was the best chance for a better life.
The note reads,
"I am sorry I had to do this but I am left with no choice because I want my baby to live a happy life. I have nothing and no one to help me and nothing to start up a small business that can sustain the baby and I. Please help me take good care of him and I pray God bless you and grant your heart desire.

The baby's name is Michael and he was born on the 26th of April 2023. He has taken his fist vaccine which is "BCG" and he is still to be circumcised.

God bless you and your household.
Thank you."
See below,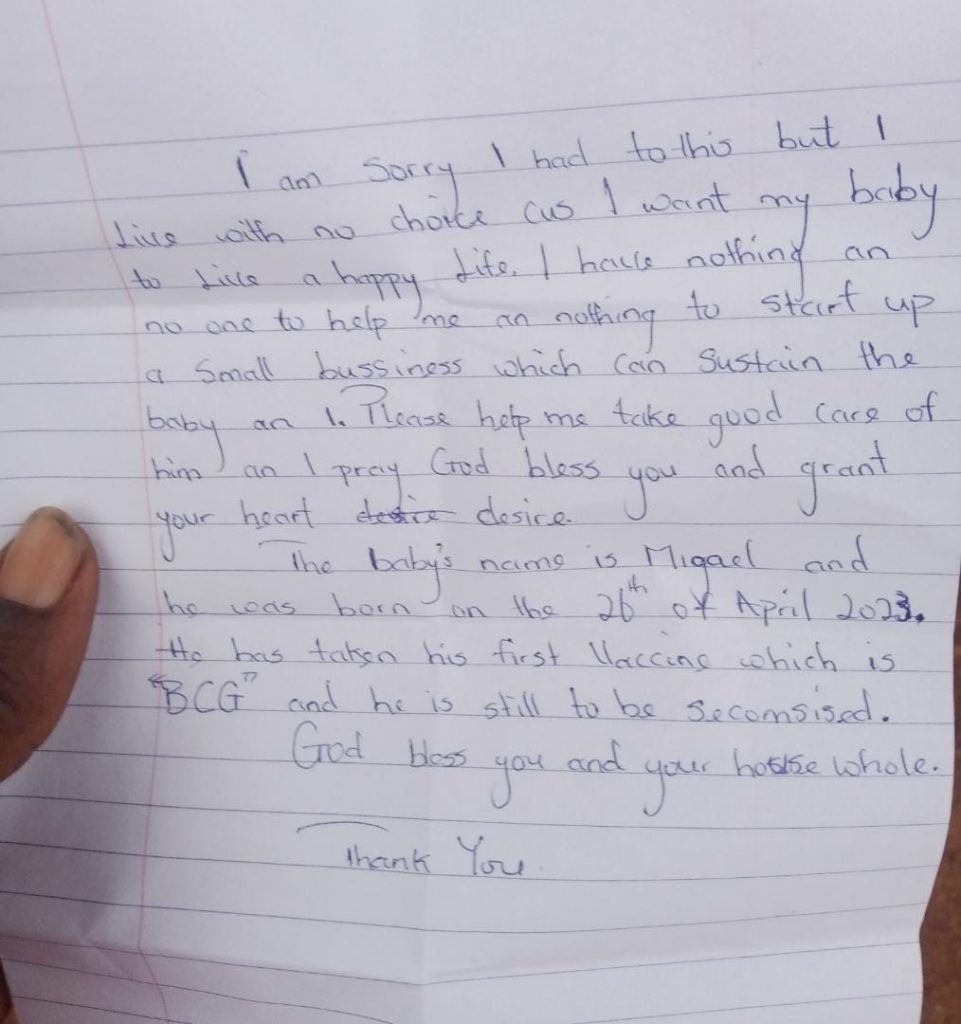 We do everything possible to supply quality news and information to all our valuable readers day in, day out and we are committed to keep doing this. Your kind donation will help our continuous research efforts.
- Advertisement -