The former Lagos State Governor and National Leader of the All Progressives Congress, Bola Tinubu, has reacted to the branded bags of rice distributed in his name to the people in the north.
Recall that residents of Kano and Borno were seen in videos and photos carrying bags of rice with the inscription of 'JAGABA- Asiwaju Bola Ahmed Tinubu'.
It was reported that Tinubu has started distributing branded bags of rice and other food items to residents of some states in the northern part of the country.
This is coming amid the claim that Asiwaju Bola Tinubu has presidential ambition ahead of the 2023 General Election.
Following this report, Tinubu has reacted, saying that he is not responsible for the initiative.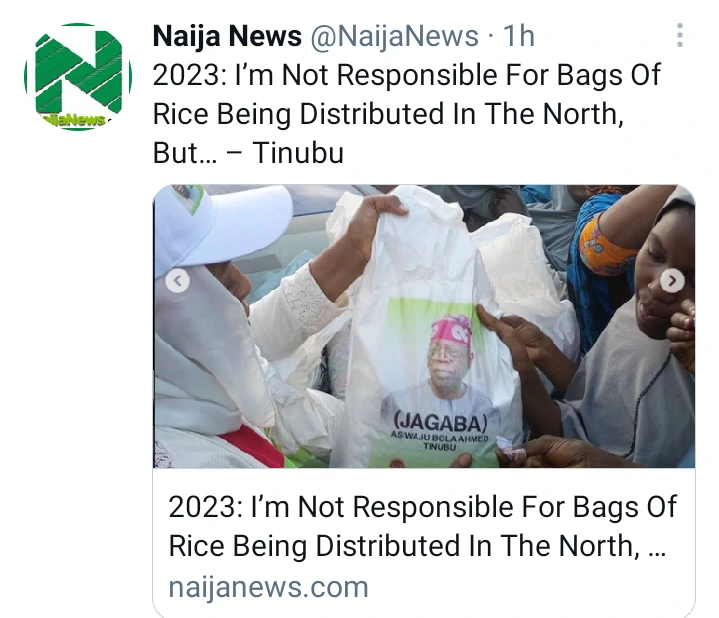 Naija News reported that Bola Tinubu has declared that he is not responsible for the bags of rice depicting his face currently being distributed in some Northern States.
In a statement via his Media team, Tinubu noted that he has become aware of the rice distribution with his face emboldened on the bags, but he is not the one behind the initiative.
Tinubu, however, commended those behind the initiative noting that their act of charity particularly in the holy month of Ramadan is highly appreciated.
We do everything possible to supply quality news and information to all our valuable readers day in, day out and we are committed to keep doing this. Your kind donation will help our continuous research efforts.
- Advertisement -