A photo of the general overseer of the Mountain of Holy Ghost Intervention Deliverance Ministry Onitsha, Chukwuemeka Ohanaemere alias Odumeje in a family photoshoot with his beautiful daughters has surfaced on social media.
In the photo that has become a growing sensation since it was first shared, the controversial cleric is pictured in a rather hilarious pose in a family photoshoot.
The cleric and his two beautiful lovely kids donned a white attire embellished with gold ribbons and shoes.
See photo below;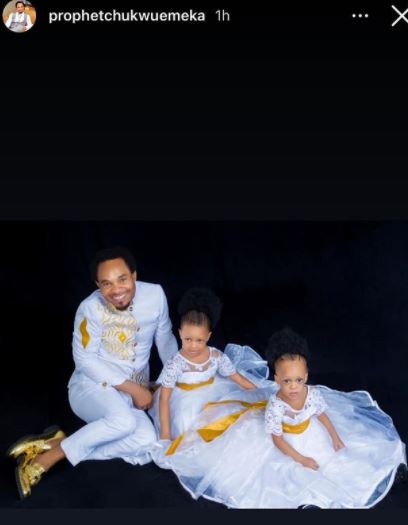 The photo was greeted with a lot of reactions from social media users who found both his composure and gold shoe hilarious.
Here's some of the reaction below;
emil0re wrote; I actually thought he was wearing heels😂
andykattie wrote; it's his golden shoe for me
zoftig_sucre wrote; Like a princess😍
iam_pearlmarvi wrote; 'Sure a great dad'
iamrediva wrote; 'To fit into the shoot ni'
sagitarian4life wrote; 'Its the gold shoes for me'